Platform & OS Version
Platform: Windows
OS Version: 11
OS Language Setting: it-IT
App Version
Version: 3.0.13
Application Shell: 3.0.13
Problem Description + Screenshots
If I sync the timeline with a Scrivener project, the path to the project is saved as an absolute path, forcing me to continuosly relocate the mapping pressing "My project has moved" and that's a pain in the… hand, if you switch device a lot like I do.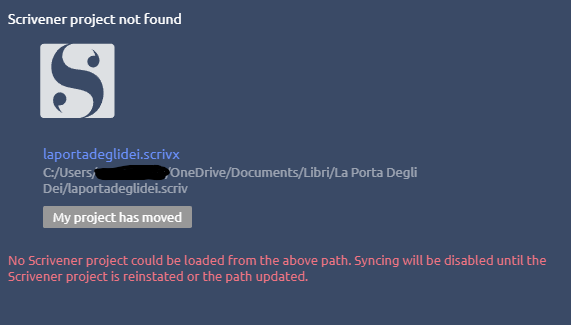 The blacked out part is the user account name. I configured the sync from my office workstation and reopened the timeline when I got back to home, but the sync link is broken because the user account name is different (and potentially the whole path to the configured OneDrive folder).
There should be a way to set a relative path, this way I can continue my work on any device without any path issue.
While paths can be broken in a lot of ways, I think that relative paths might be more reliable and less error prone.
Matt