To help us respond to your bug report as efficiently as possible, please fill out the follow template (and delete all instructions)
Platform & OS Version
Platform: Mac | Windows | iPhone | iPad
OS Version: MacOS 11.6 - Big Sur
OS Language Setting: English
App Version
Version: 3.0.13
Application Shell: 3.0.13
Problem Description + Screenshots
When attempting to print, receive error "An error occurred when generating a preview of the printed document." This is in Spreadsheet View.
Steps to reproduce
File → Print
Are you able to reproduce this bug reliably? Yes.
Can you make this bug happen with a clean timeline file? Yes.
Does it only happen with a specific timeline file? No.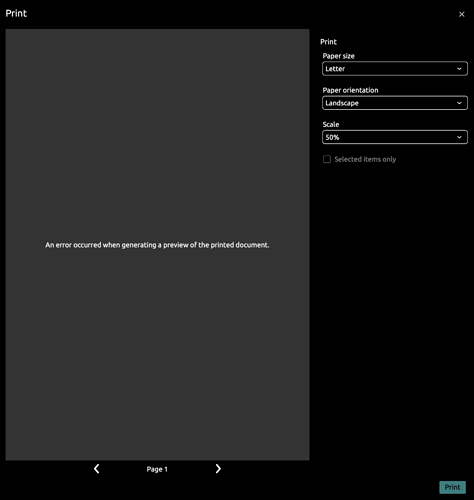 If there is a file that is particularly relevant to your bug, it is usually much faster for us to diagnose and fix bugs (and potentially repair files) if you can send them to us.
Please follow these steps:
Finish posting this bug report to the forum
Send an email to support@timeline.app, including:

A one-line summary of the issue
The URL of your post
Your timeline file, as an attachment