Platform & OS Version
Aeon Timeline
Version: 3.0.22
Shell Version: 3.0.22
Opening Mode: Editor
Operating System: Windows 10
Device Model: System Product Name
Problem Description + Screenshots
Provide a detailed description of the bug that you encountered. Please include any screenshots that are relevant.
Steps to reproduce
I have a timeline where I previously synced items as "Ignore" (because previous of version 3.022 there wasn't the search feature in the Sync inspector panel). Now, if I try to change the binding of such ignored items to some existing item in the timeline, nothing happens.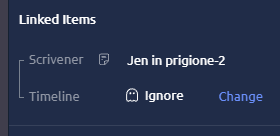 I click on change, choose an item, but nothing happens. It stills shows "Ignore". It seems to work only if I choose to link it to a new item.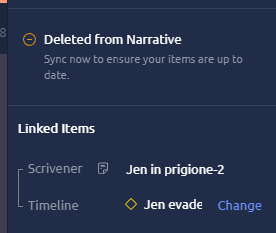 Even if it seems to work this way (but it's not acceptable), I don't understand why it says "Deleted from Narrative". If I chose "Create new" from the dropdown, why is has to be "Deleted from narrative"?
Thanks